Did you know you have an "Internal Reality" and an "External Perception?"
One side of your face shows your "External Perception." It's the way a bride, and anyone else who can influence her, sees your business.
Moreover, it's the opinion your bride forms from all the interactions she has with your bakery or cake boutique. It's everything you say, do, everything you mistakenly believe you say and do, and what you don't say or do.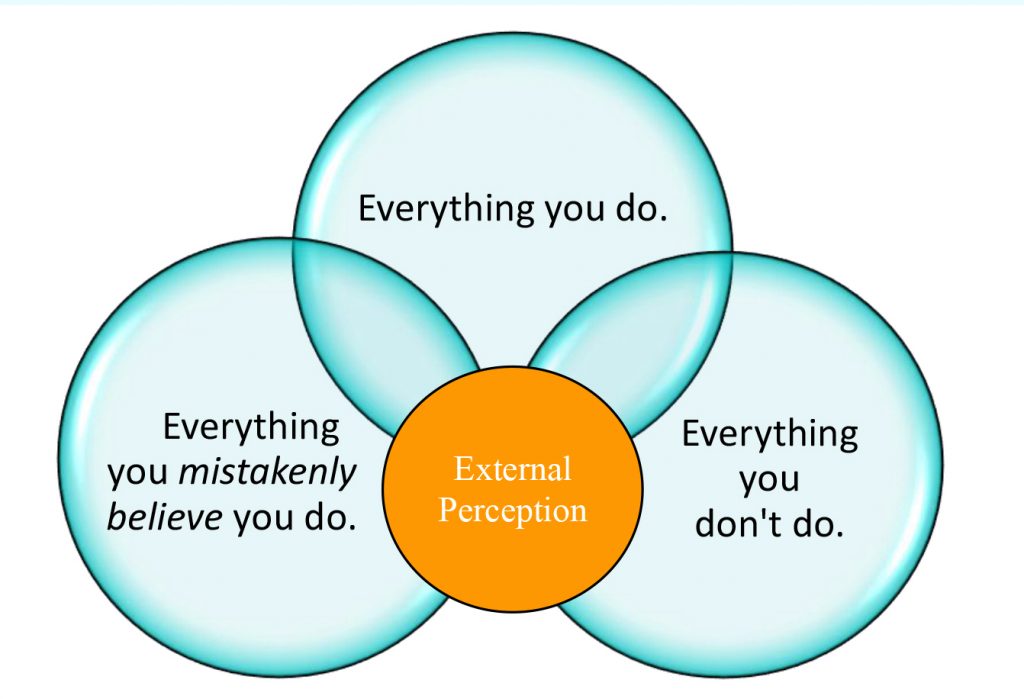 The 3 interlocking rings illustrate how a bride's perception is formed.
Good, bad or indifferent, she's going to judge you.
Her overall opinion, her "External Perception" about you needs to be so favorable, you become the obvious choice.
Otherwise, you've left doubt in her mind and an open door to choose one of your competitors.
Let me clarify the above diagram regarding "External Perception."
Everything you do refers to the information your prospective bride absorbs through all channels of communication. It can be from your website, phone conversations, emails, text messages, bridal shows, magazine ads, testimonials, a friend's recommendation etc.
Everything you mistakenly believe you do refers to your "Internal Reality" not matching up with your "External Perception." As an example, you believe your cakes are gorgeous, but the reality is, you're still creating designs from 2010. In another example, you see your website as very functional, full of information, and very creative. But, the reality is, your website is 8 years old and looks completely out-of-touch to the technologically advanced women of today.
What you don't do refers to things that you don't do because you don't know any better… or you do know better, but don't want to do them. It can also be things your competitor does you don't or won't. For example, you may not want to schedule consultations on Sundays or evenings. You may not want to offer cakes made with only organic ingredients. You may not know how to create a wedding cake topper made with modeling chocolate, so you don't offer it.
Your "Internal Reality" is how you actually run your business. Whether you operate it like a well-oiled-mixer or a hot-mess…that's your "Internal Reality."
 "Internal Reality" defines everything you do.

"External Perception" is how your brides see your "Internal Reality."

Be sure brides see how great you really are!
It's important to recognize whether you need improvement, or whether you don't give yourself enough credit for what you do.
Here's the ideal "Internal Reality."
It should encompass everything you do and everything you are that makes you great.  It's all of your skills, your expertise, your superior wedding cakes, your people, focus on customer service and satisfaction, your streamlined systems, unique innovations, and your commitment to excellence, including your passion!
But here's the problem:  You may offer the best wedding cakes and customer service in your market and your customers may love you, but none of that means anything to a prospective bride who DOESN'T know you and hasn't had any experience with you!
Your bride wants to make the best buying-decision possible—not just on price, but on perceived value! If your current marketing and sales strategies don't help your bride through the "sifting process," you're not going to capture all the orders you deserve. You must rise above the noise.
Getting to the point of catapulting wedding cake sales and rising above the noise is accomplished by creating a superior "Internal Reality" and then projecting an "External Perception" which is so persuasive, you become the obvious choice for her to do business with you.
When you take the training for "Cracking The Secret Code That Unlocks Your Wedding Cake Sales," you'll automatically build a great "Internal Reality" as well as project your new and highly effective "External Perception."