3-Day Workshop Experience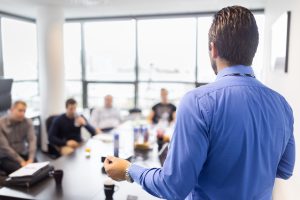 The popular 3-day workshop experience consists of between 6 to 12 bakers.
This intimate and intense training has you rolling up your sleeves and working side-by-side with Ed.
We begin by reviewing the on-line training presentations for "Cracking the Secret Code That Unlocks Your Wedding Cake Sales."
After receiving the in-class instruction, we'll implement all the strategies, tactics and tools from the course into your business.
Here are a few examples:
Together, we'll personalize a written guarantee ready to turn undecided brides into buyers. While your competitors are scared-to-death to use one, you'll be happy to provide one.
Together, we'll develop and complete a sales tool titled "33 Bakery Buster Questions." Its job is to separate you from your competitors by casting a glowing light on you and your business. By the way, brides love it.
You'll leave with a sales tool called "The Bride First Dialogue." Instead of sounding like every other baker a bride calls, we'll build a phone script, just for you that will amaze her. Remember, a bride's first phone call to you is a major chance to impress and influence her. It's the perfect chance to set the tone for her overall experience you're going to give her.
The 3-day workshop experience is perfect for bakers who would like to receive the hands-on guidance and attention you don't receive by only taking the on-line course.
Here are the top 10 experiences bakers valued the most
while attending Ed's 3-day workshop.
They learned how to utilize the leading and cutting-edge "Educate, Serve, Taste and Convince" methodology to its fullest extent.
They developed and personalized their sales and marketing tools for immediate use in only 3 days.
They gained the skills to increase their wedding cake sales by at least 50% and possibly up
to 300%.
They left with an enhanced understanding for providing brides with an experience that exceeds their competitor's.
They felt more informed by getting a better grip on using the 11 psychological principles for convincing brides to choose them.
They obtained the knowledge for commanding up to 30% higher prices.
They could ask and receive answers to as many marketing, sales or general business questions they had on their mind. For them, that was worth the price of admission.
They were able to have Ed evaluate websites and other marketing materials.
They acquired a thorough understanding for what it means to "Serve" brides instead of only "Helping" them.
The limited number of bakers formed a friendly and helpful forum for discussing their issues and challenges with like-minded bakers.
For 2019, workshops are being held Monday – Wednesday during the second week of January, February, March, April, July, October, and November.
Please be aware, the 3-Day workshop is sold on a first-come first-served basis. Also, the dates are subject to change.
Please call 402-968-2758 for availability.